How to Install OneAlliance Reborn Builds on Leia 18
Kodi Leia, just like Krypton, prevents the installation of third-party builds. But, you can bypass this security setting and install OneAlliance Reborn builds. Here are the steps:
#1. Open the Kodi Settings from the home-screen of Leia 18.1 (it's still the cog icon on the top-left)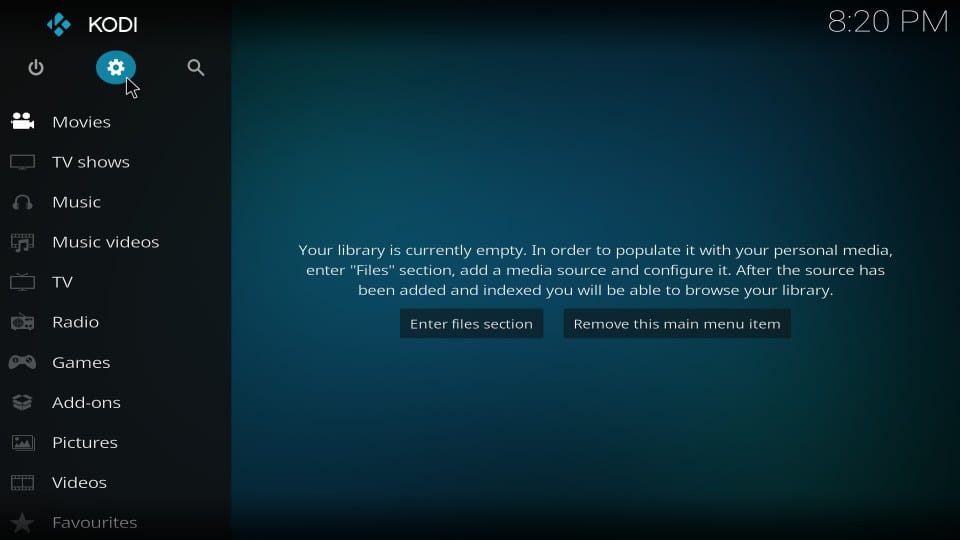 #2. Open System on the next window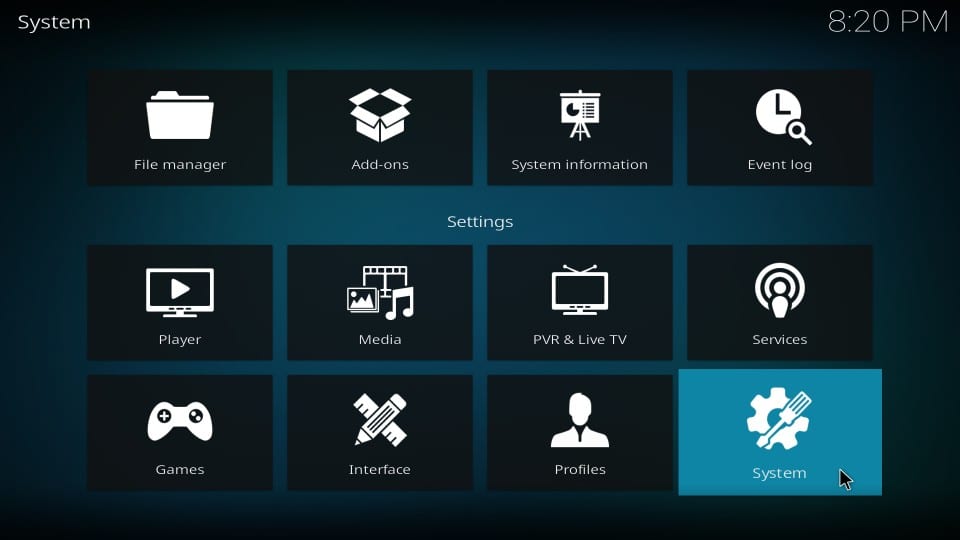 #3. Select Add-ons on the left side of the next screen. Now, navigate to the right part and switch on the toggle next to Unknown Sources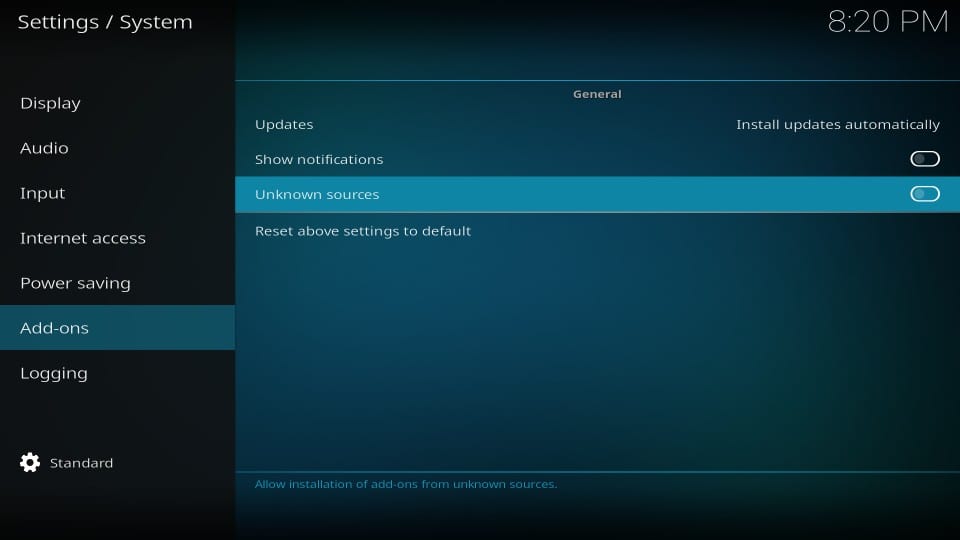 #4. When prompted, click Yes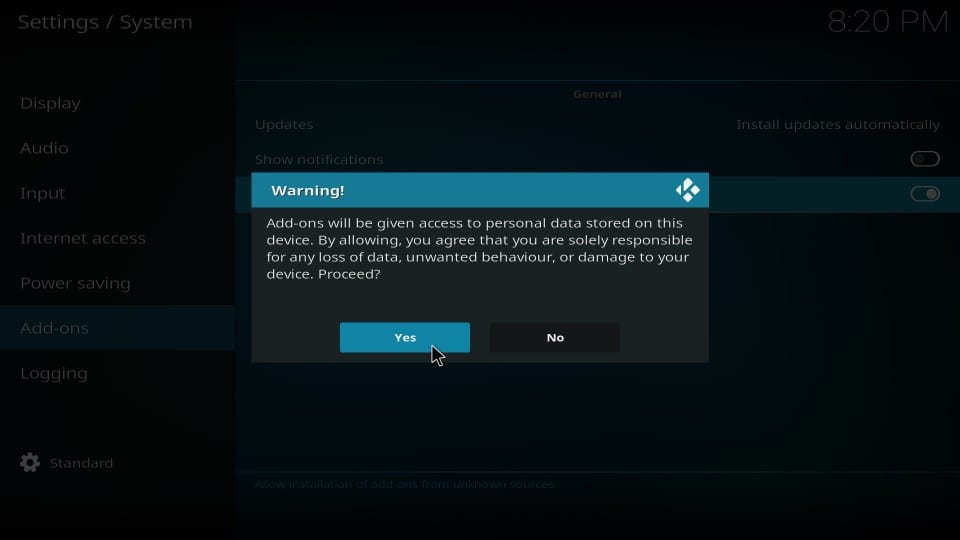 You may ignore this warning message as OneAlliance Builds have been tested for safety. However, it would be a good idea to disable Unknown Sources again after installing the build
OneAlliance Reborn Builds Installation Process
#1. Go back to the Kodi home-screen and click Settings again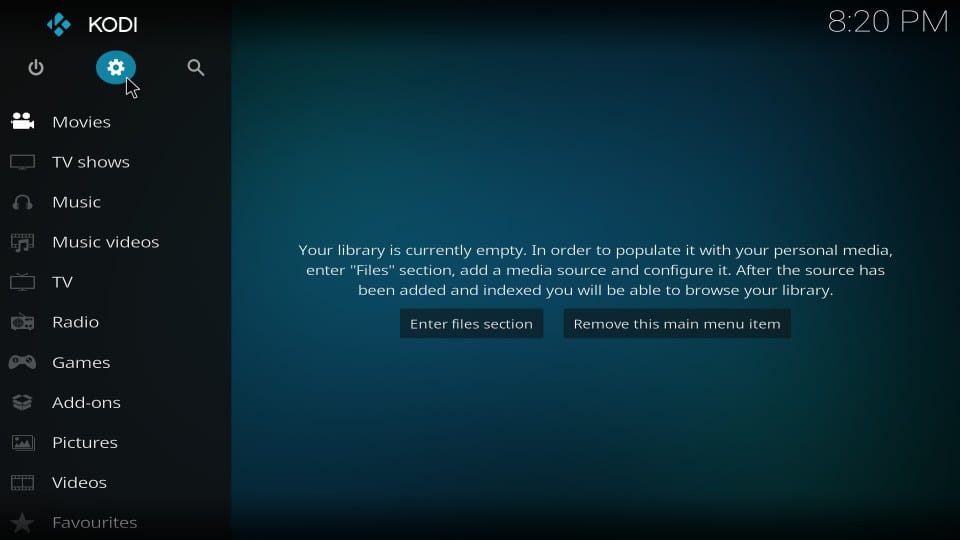 #2. Click File manager on the screen that follows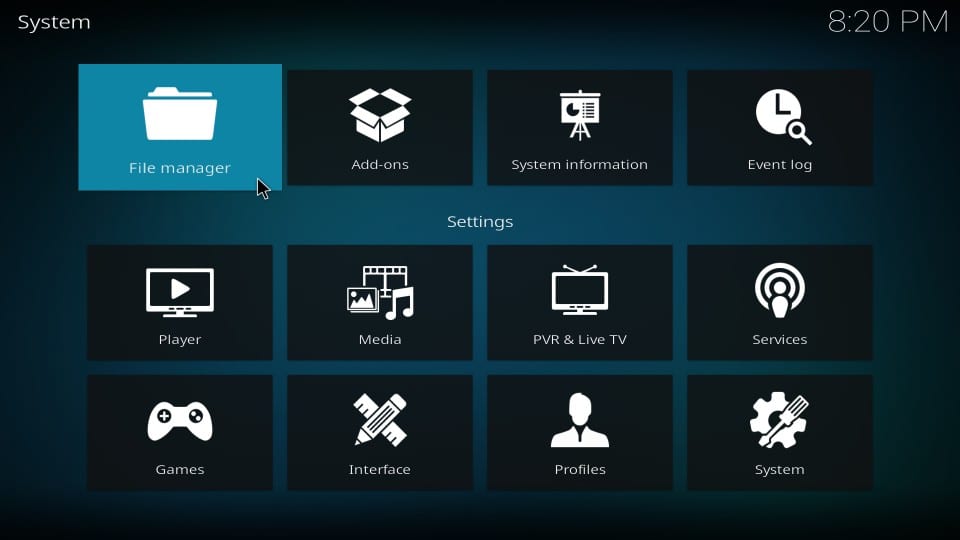 #3. Open Add source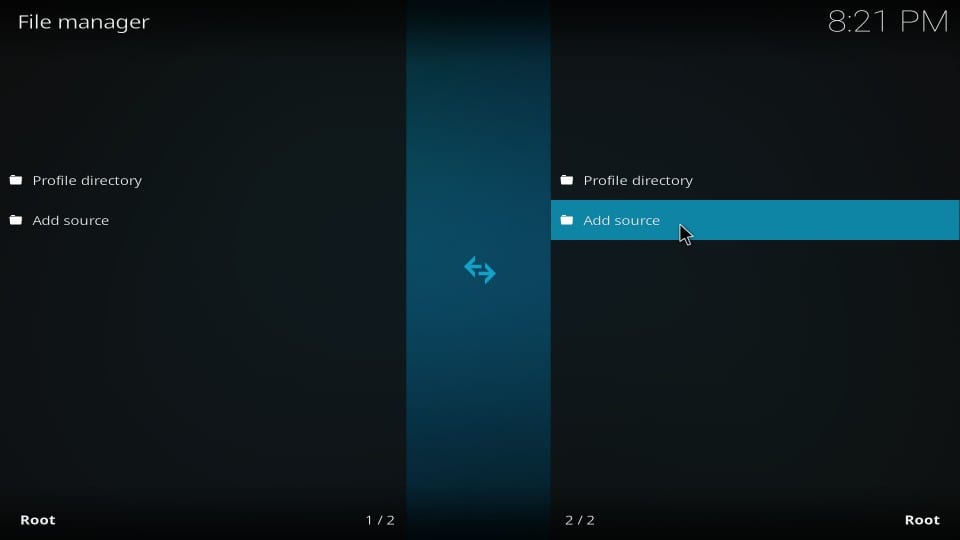 #4. Click <None>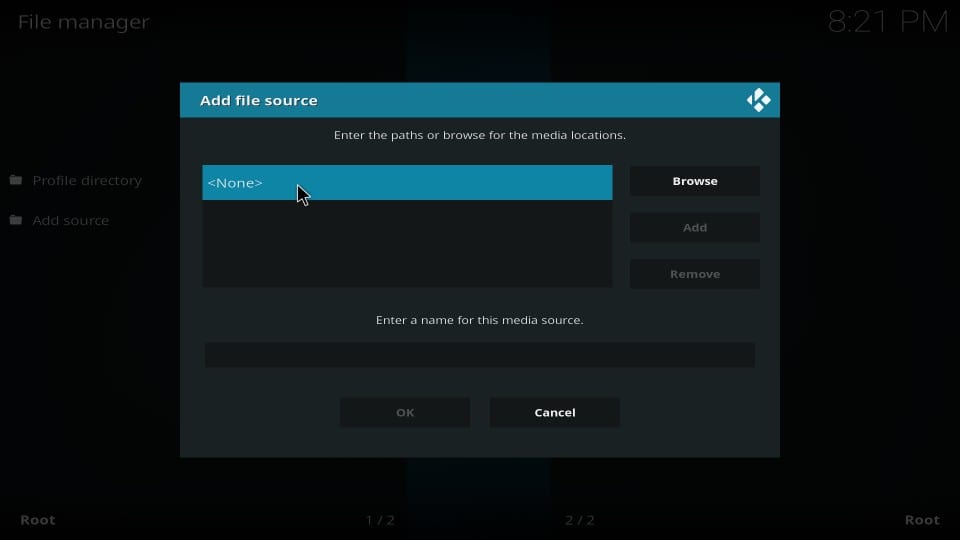 #5. Type in the following URL carefully where you see the empty space on the top: http://onealliancereborn.com/repo
Click OK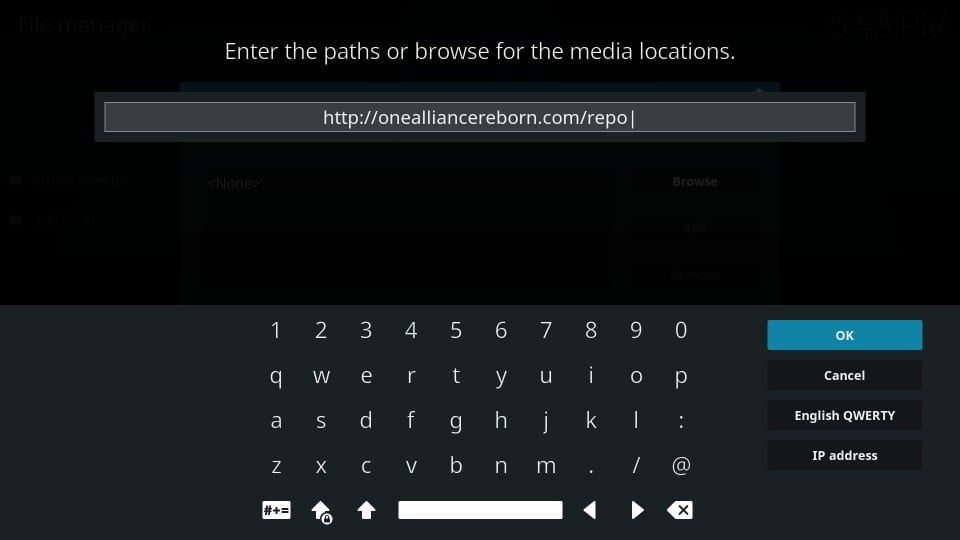 #6. Now type in any name you like to identify the source within the designated field. For instance, you may name it OA like I did.
Click OK and continue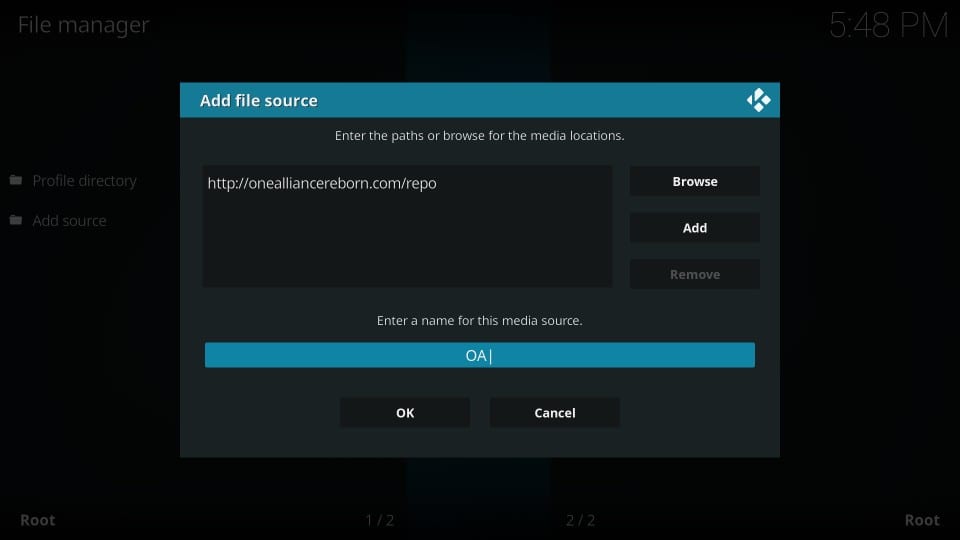 #7. You want to be on the Kodi home-screen again. Press the back button repeatedly until you are there.
Click Add-ons on the left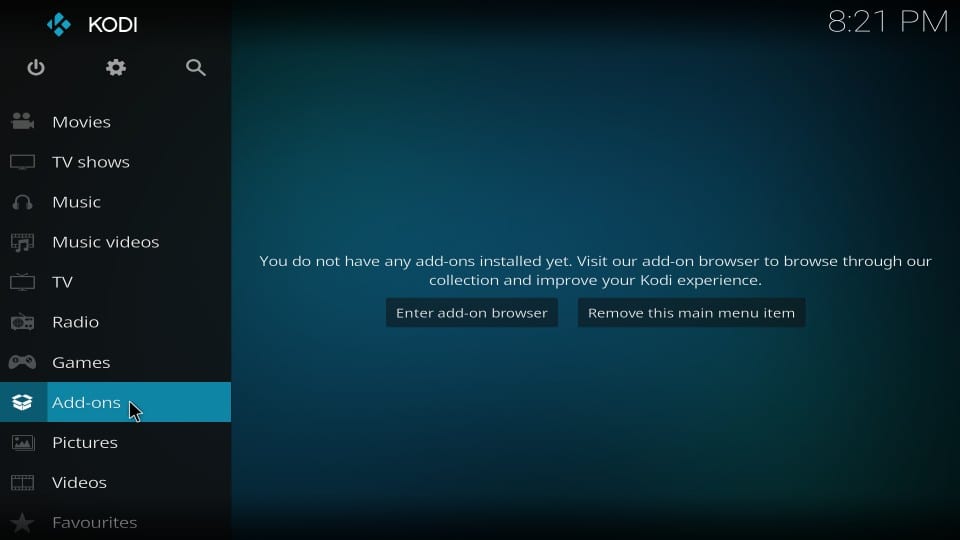 #8. Click the tiny open-box icon in the top-left corner of the next screen. You may know this icon by the name Package installer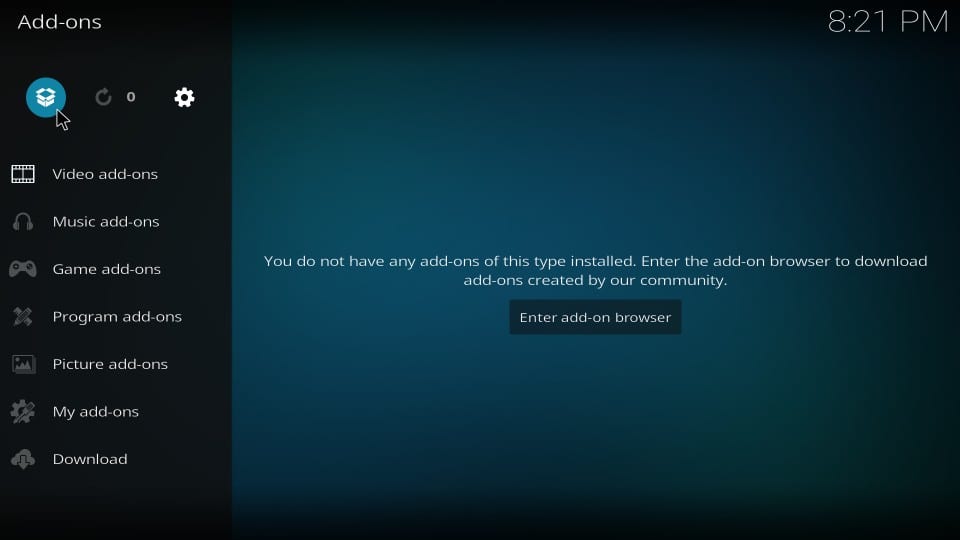 #9. Click Install from zip file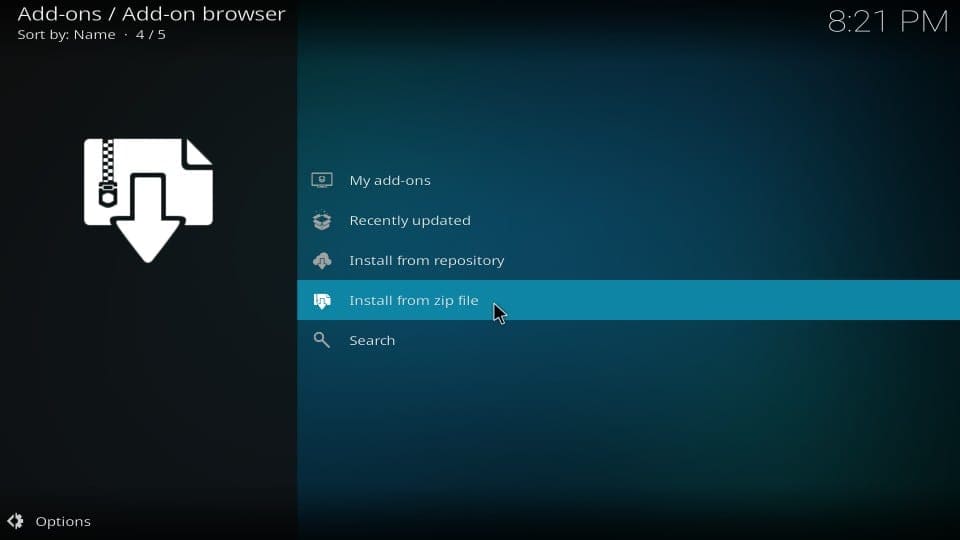 #10. Click OA or the name you chose for the source earlier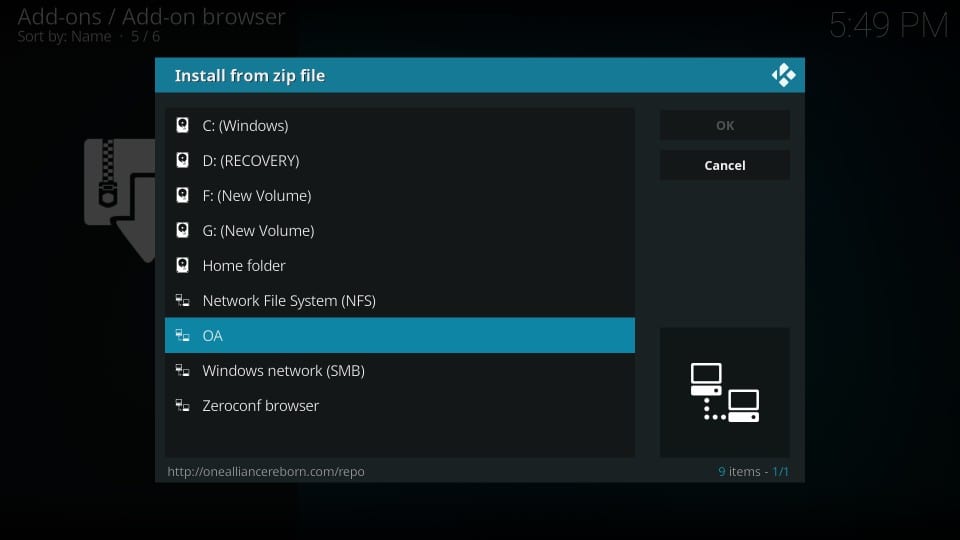 #11. Click the zip file named plugin.program.onealliancerebornwizard-x.x.x.zip
 Note: x.x.x in the file name represents the version number. As I write this guide, the version number is 2.0.4 as you can see in the image. However, it may change if the file is updated in the future.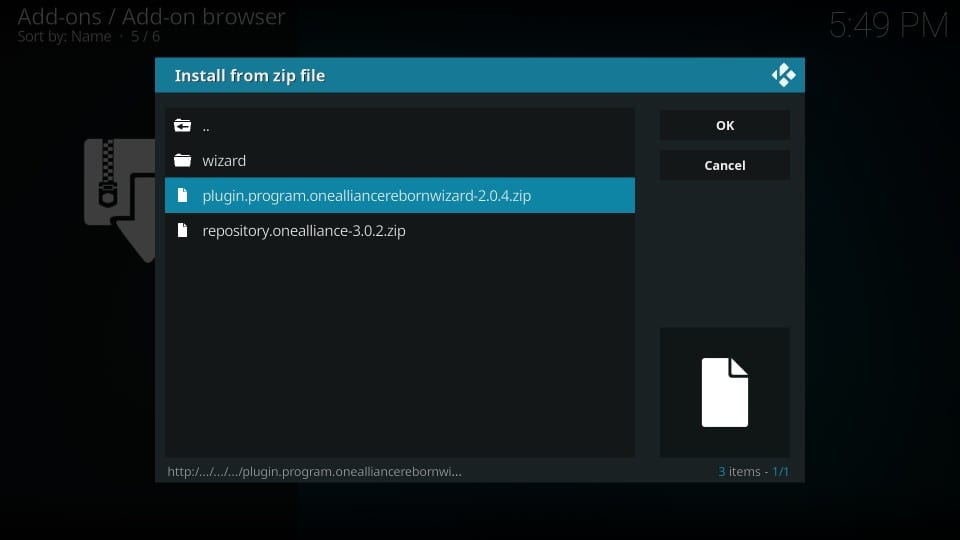 #12. Wait until you see the notification in the top-right corner saying OneAlliance Reborn Wizard Add-on installed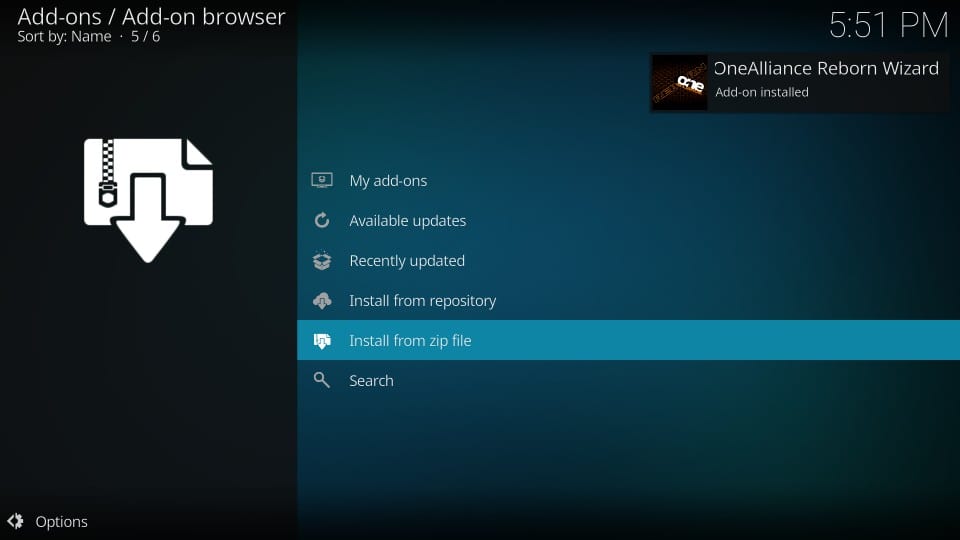 #13. You should now see a few popups. When this one appears, click Continue
Note: If you want to change any settings, select it before clicking Continue button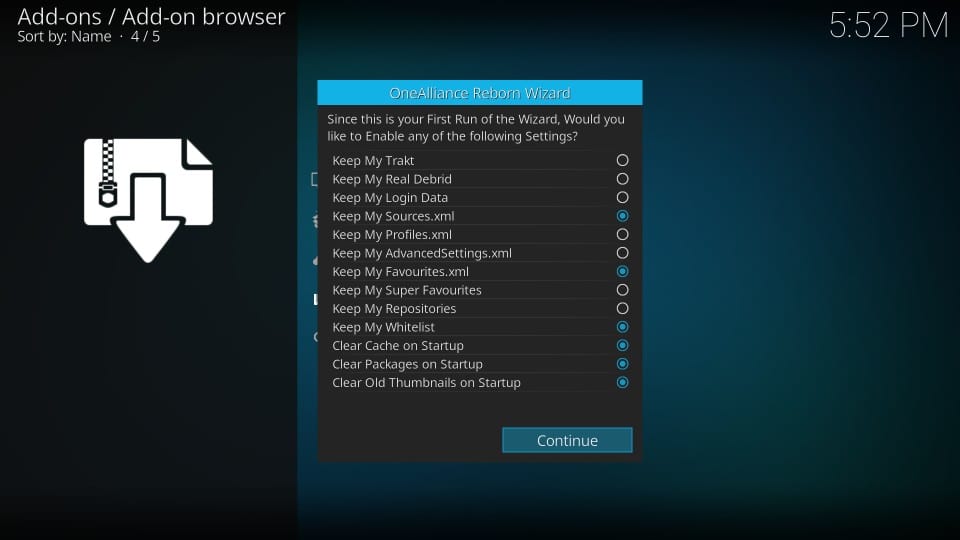 #14. If you would like to directly go to the list of the builds, click Build Menu and skip to step 17. Click Ignore and follow the next step to navigate to the build menu from the Kodi home-screen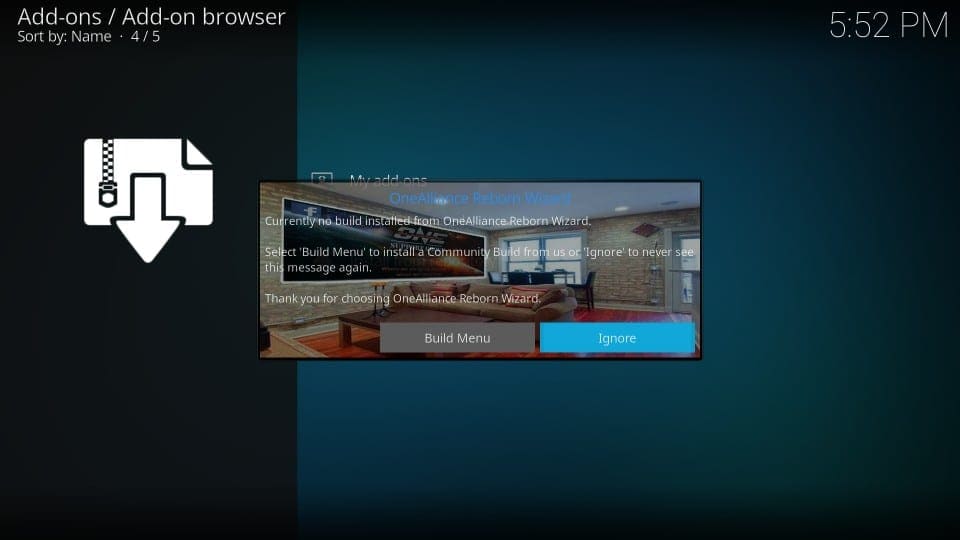 #15. Go back to Kodi home-screen and navigate to Add-ons > Program add-ons
Click OneAlliance Reborn Wizard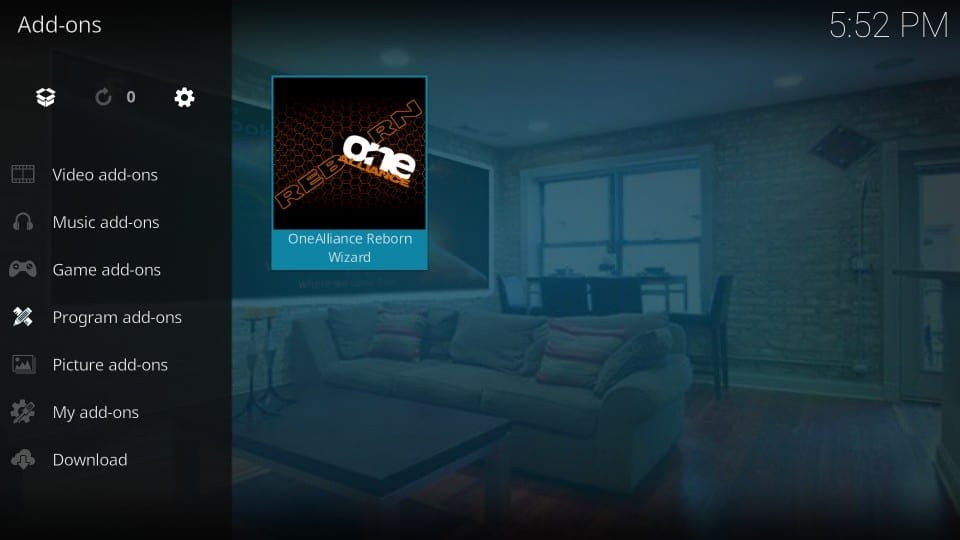 #16. Click Builds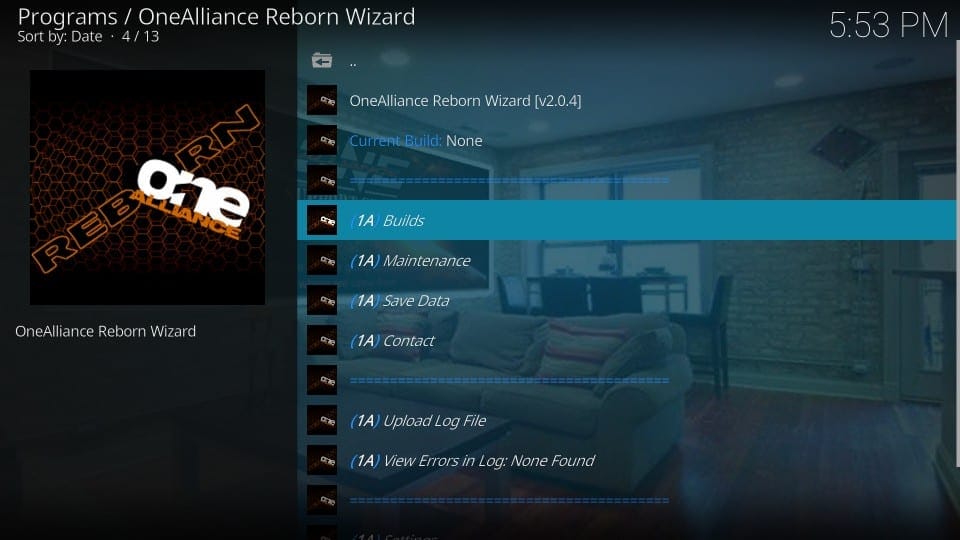 #17. Click a Build for Kodi 18 Leia
Note: The version number here will keep updating as per the Kodi version. So, choose accordingly.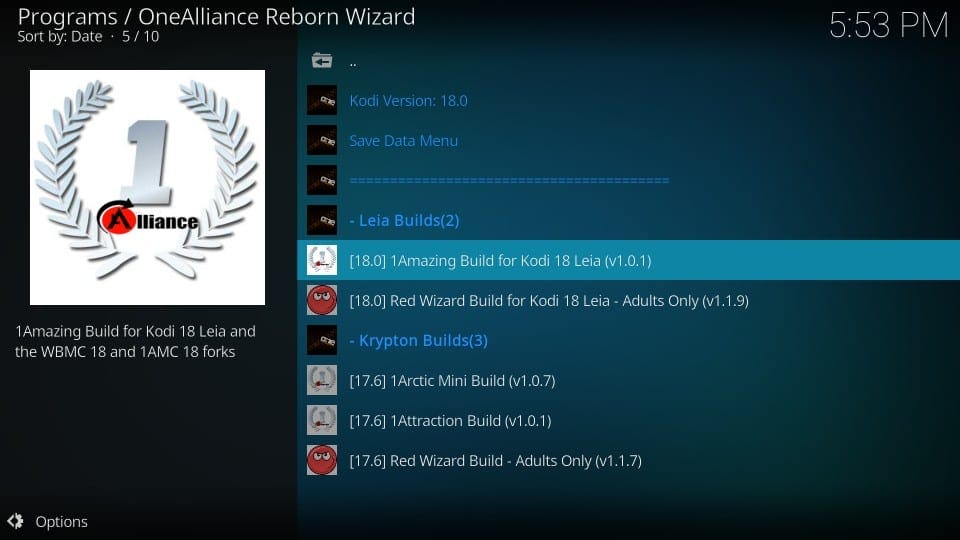 #18. Choose Fresh Install on the following screen
Note: It is best to go with Fresh Install and reinstate Kodi to its default values before installing any build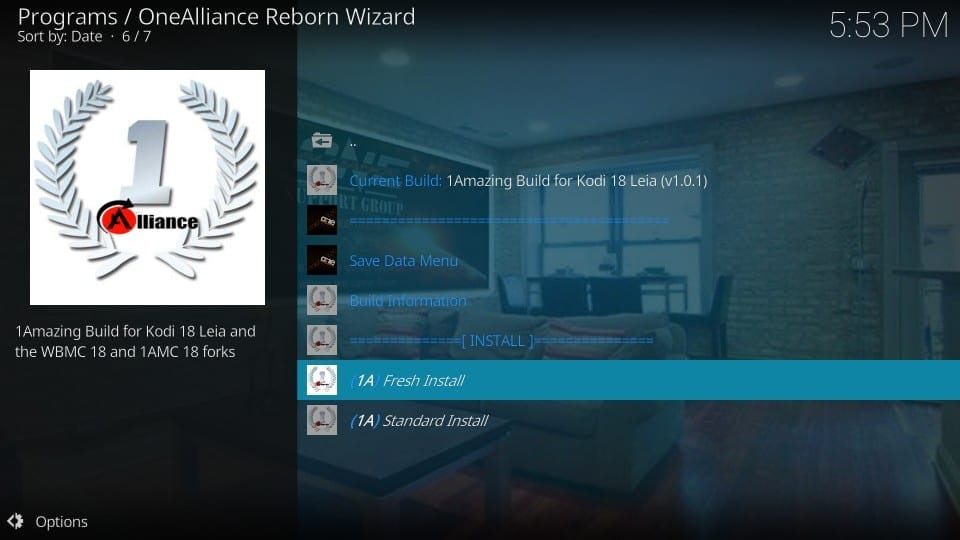 #19. Click Continue to confirm that you wish to restore Kodi to the default configuration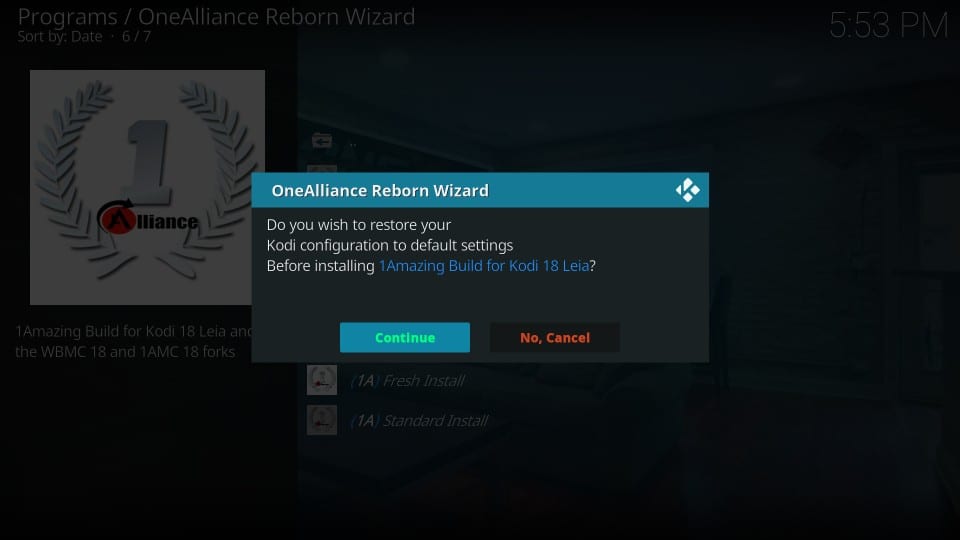 #20. Wait for your chosen build to download and install. It may take 3-4 minutes depending upon your device specs and speed of internet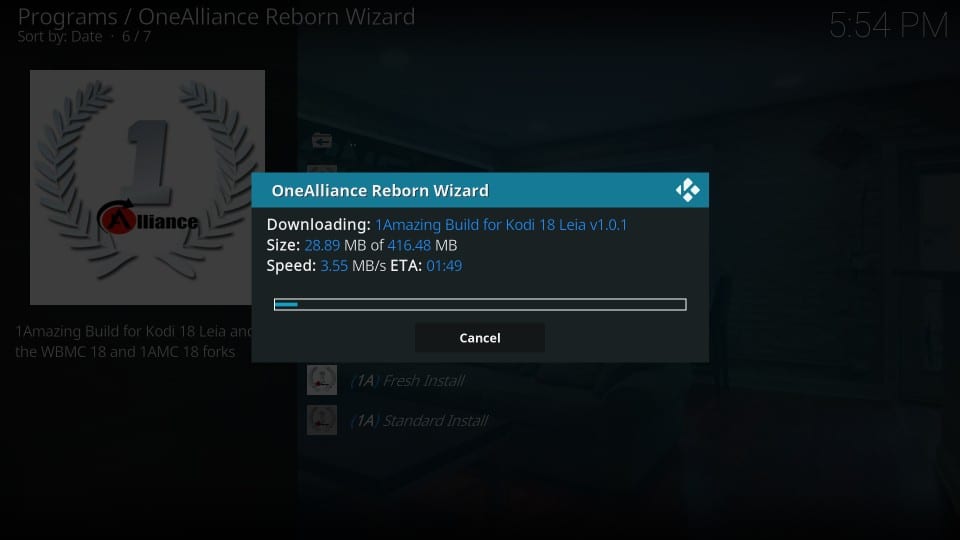 #21. Once the build is finally installed, you should see the following prompt. Click Force close to quite Kodi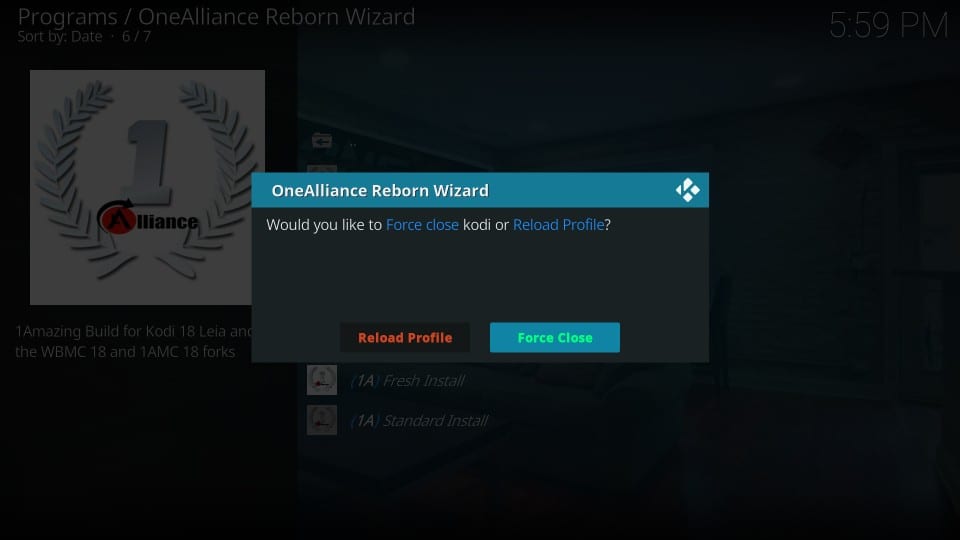 #22. Now you can reopen Kodi to use the 1Amazing Kodi build